Jorge Karelic was born in 1952; emigrated from Uruguay to Israel when he was 22 years old .In 1978 he graduated from the Betzalel Academy of Art and Design in Jerusalem. From 1986 - 1988 he studied Art Therapy at Lesllie College. He has taken part in 11 group exhibitions and has had 9 solo exhibitions in Israel and abroad.
In his work, Jorge succeeds in combining the characteristic colorfulness of Uruguay with the intense Mediterranean light. His creations sweep us into a festive celebration in the unique collections he creates for exhibitions in which each item is a one-off piece.
As well as being a distinguished ceramic artist, Jorge is regarded as having established several generations of ceramic artists in the numerous workshops he has held over many years and which have earned him the reputation as an excellent teacher.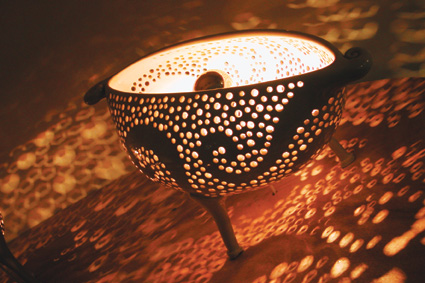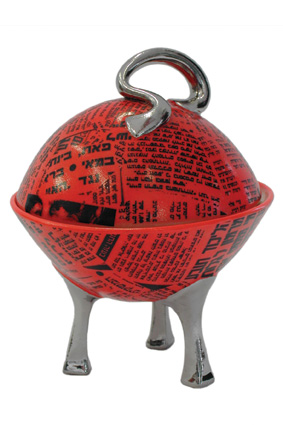 His exhibitions provide him with a diversion from the routine of earning a livelihood, and he invites the viewer to share in the celebration of his art. His functional ceramic pieces, molded in simple, minimalist geometric shapes, radiate a glowing stylized and unconventional flash.
Jorge's exhibition at the Art-Y-Choc Gallery, "High Heels" was a follow on of a project commissioned by Tel Aviv designer fashion store Comme-il-Faut, which also dealt with feminist issues. He began mounting his vessels on heels, which assumed exaggerated dimensions in the current exhibition in which all exhibits were displayed on "High Heels" – a name inspired by Pedro Almodovar's famous film. The intriguing world of women constitutes a source on inspiration for both artists. Almodovar is drawn into the sinister world of prostitutes while for Jorge, the vessel-woman goes out to party – her hips swaying on gold-cast high heels and a unique crown perched on her head.
Each item is wrapped in a decoratively patterned textile print, ranging from black and white Op-Art shapes, glittering sequins, and geometric patterns reminiscent of the 50s, rose print, Scottish tartans or silk and muslin in glowing colors.
Jorge extracts each scrap of association from everyday life and stores it in his visual archive. These scraps serve as active and stimulating ingredients for his creative endeavors, filled with effervescence, sensuality and festivity that transform functional items into those which transcend the ordinary.
He boldly mixes high with low, the mundane with the festive and the small motif with the large.
Please contact Art-Y-Choc for available pieces for sale.